Sky History's The Chop axed over contestant's 'far-right' tattoos | Ents & Arts News
Sky History has axed its new woodworking show The Chop after producers said a contestant's tattoos "could be connected to far-right ideologies".
The reality show – which was in the style of The Great British Bake Off – was on the hunt for "Britain's top woodworker", and featured ten contestants taking on challenges in Epping Forest. The first episode aired on 15 October.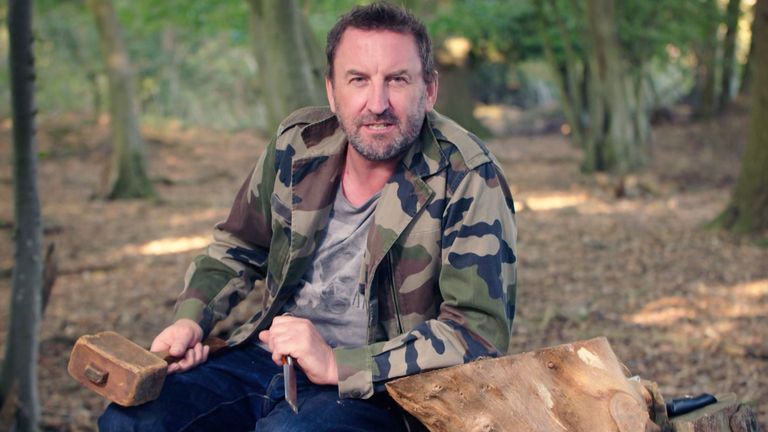 Hosted by presenters Lee Mack and Rick Edwards, it had been due to air weekly on Thursday nights at 9pm, however no more episodes will be broadcast following controversy over contestant Darren Lumsden's tattoos.
After promotional clips were released online featuring the heavily-inked Bristol carpenter, social media users pointed out that several numbers on his face and head had apparent links to white supremacy.
They include the number 88 – which white supremacists use as a code for "Heil Hitler" – H being the eighth letter of the alphabet – according to the Anti-Defamation League (ADL).
The numbers 23 and 16 are also tattooed on the side of his head – a numeric symbol used by white supremacists to signify "white power", and also referring to the position of letters in the alphabet, the ADL says.
Following an investigation, A&E Networks UK have pulled the show permanently, along with all social media clips featuring Mr Lumsden.
In a statement they said: "A contestant's tattoos included symbols that could be connected to far-right ideologies and could cause offence; we sincerely apologise for that and we are sorry that our processes did not prompt further investigation at an earlier stage.
"The contestant continues to strenuously deny that he has, or ever had, far-right leanings. We are thoroughly reviewing our internal processes following the investigation. AETN UK and Sky History stand against racism and hate speech of all kinds."
Sky History initially said the tattoos "denote significant events" in Mr Lumsden's life, including "the year of his father's death" in 1988.
However, Mail Online claimed it had spoken to Mr Lumsden's father Trevor who told the website: "I'm alive and kicking so I'm not dead yet."